A Summer Lemon Cream Tart to Enjoy Al Fresco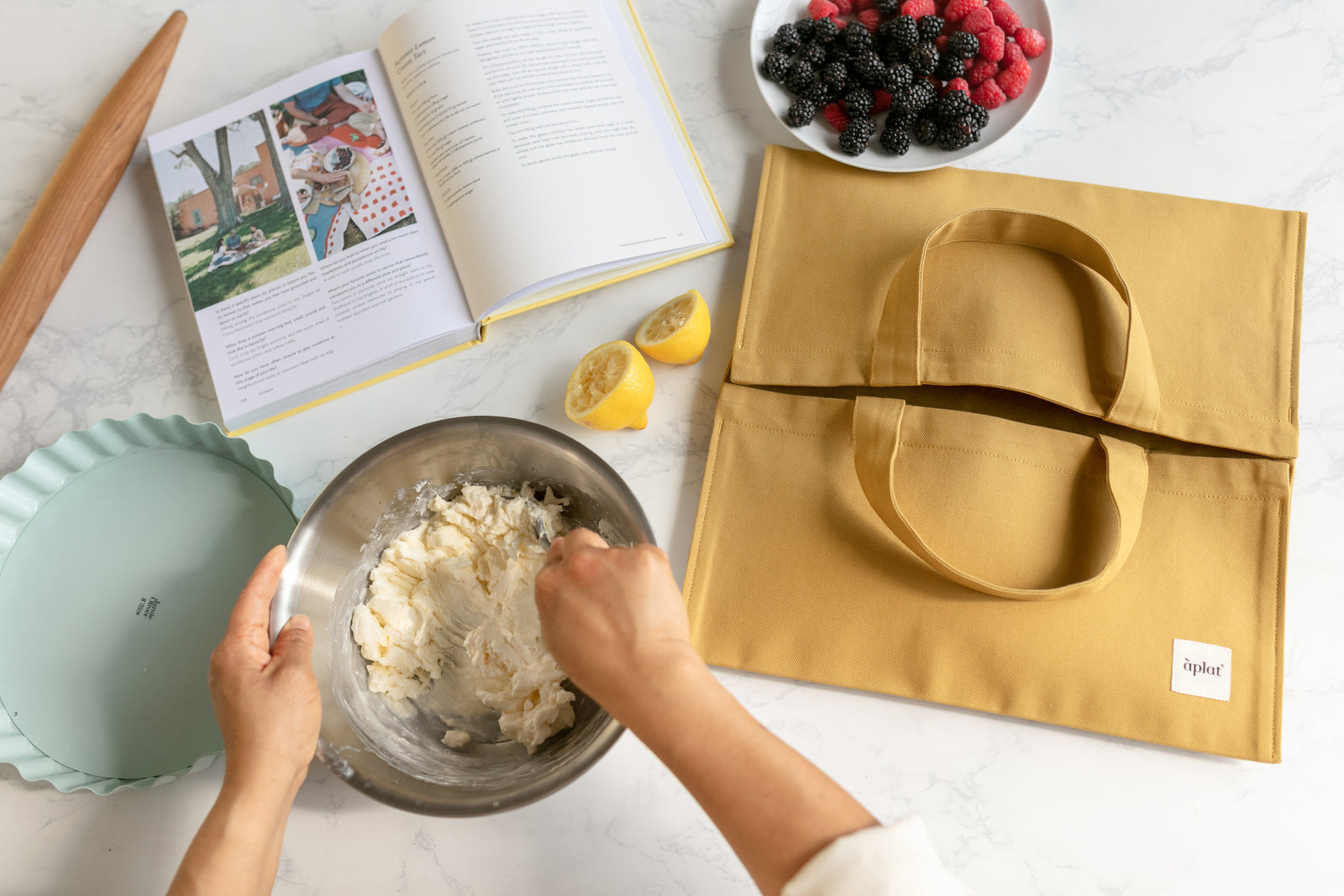 I am excited to share with you our partnership with Julie Pointer Adams on her new book, Al Fresco: Inspired Ideas for Outdoor Living. 
I am a big fan of her design and living ethos, and like me, you may have a copy of Wabi-Sabi Welcome and issues of Kinfolk Magazine on your coffee table. 
Al Fresco captures Aplat's spirit of casual outdoor gathering and slow living, filled with fresh, delicious recipes, ideas, and tips for spending more time outside with friends and family. I have always believed that food tastes better outdoors.
The Summer Lemon Cream Tart on page 295 was a breeze to make. It requires very little baking time. My family and I enjoyed the creamy, tangy deliciousness on a recent outing. It's perfect for a summer picnic or almost any occasion, special or ordinary.
Summer Lemon Cream Tart*

Serves 4 to 8 
Crust
1¼ cups (155 g) flour
3 tablespoons (38 g) sugar
½ teaspoon (3 g) salt
8 tablespoons (1 stick/113 g) butter
3 to 4 tablespoons (45 to 60 ml) ice water
Filling
8 ounces (225 g) cream cheese, softened
¼ cup (50 g) sugar
Grated zest and juice of 1 lemon (approximately 2 tablespoons juice)
Topping
2 to 3 cups (280 to 420 g) whole berries or sliced stone fruit
Glaze
2 tablespoons lemon juice
2 tablespoons sugar
To make the crust, combine the flour, sugar, and salt in a medium bowl. Cut the butter into the flour mixture until the butter is the size of peas. Add just enough ice water so the dough comes together.
Turn the dough out and shape it into a disk. Wrap in parchment paper and chill for 30 to 45 minutes.
Preheat the oven to 375°F (190°C). Remove the dough from the refrigerator and let sit at room temperature for 5 minutes.
On a floured surface, roll the dough out into a 12-inch (30 cm) round and fit it in a 9-inch (23 cm) tart pan, pressing it over the bottom and up the sides. Trim off any excess dough with a sharp knife. Line the tart shell with foil and fill it with dried beans or rice.
Bake the crust for 10 minutes, then remove the foil and beans or rice. Prick the crust all over with a fork and bake for another 20 minutes, or until lightly brown. Remove from the oven and let the crust cool completely.
To make the filling, combine the cream cheese, sugar, and lemon zest and juice in a bowl and beat until smooth. Spread evenly over the cooled crust.
Top the filling with the berries or fruit.
To make the glaze, combine the lemon juice and sugar in a small saucepan and heat over low heat, stirring, until the sugar has dissolved and the glaze has thickened. Remove from the heat and let cool.
To serve, gently brush the glaze over the fruit. Enjoy!
*Excerpted from Al Fresco by Julie Pointer Adams (Artisan Books). Copyright © 2022. 
---