Aplat Kitchen: Pistachio Ginger Linzer Cookie Recipe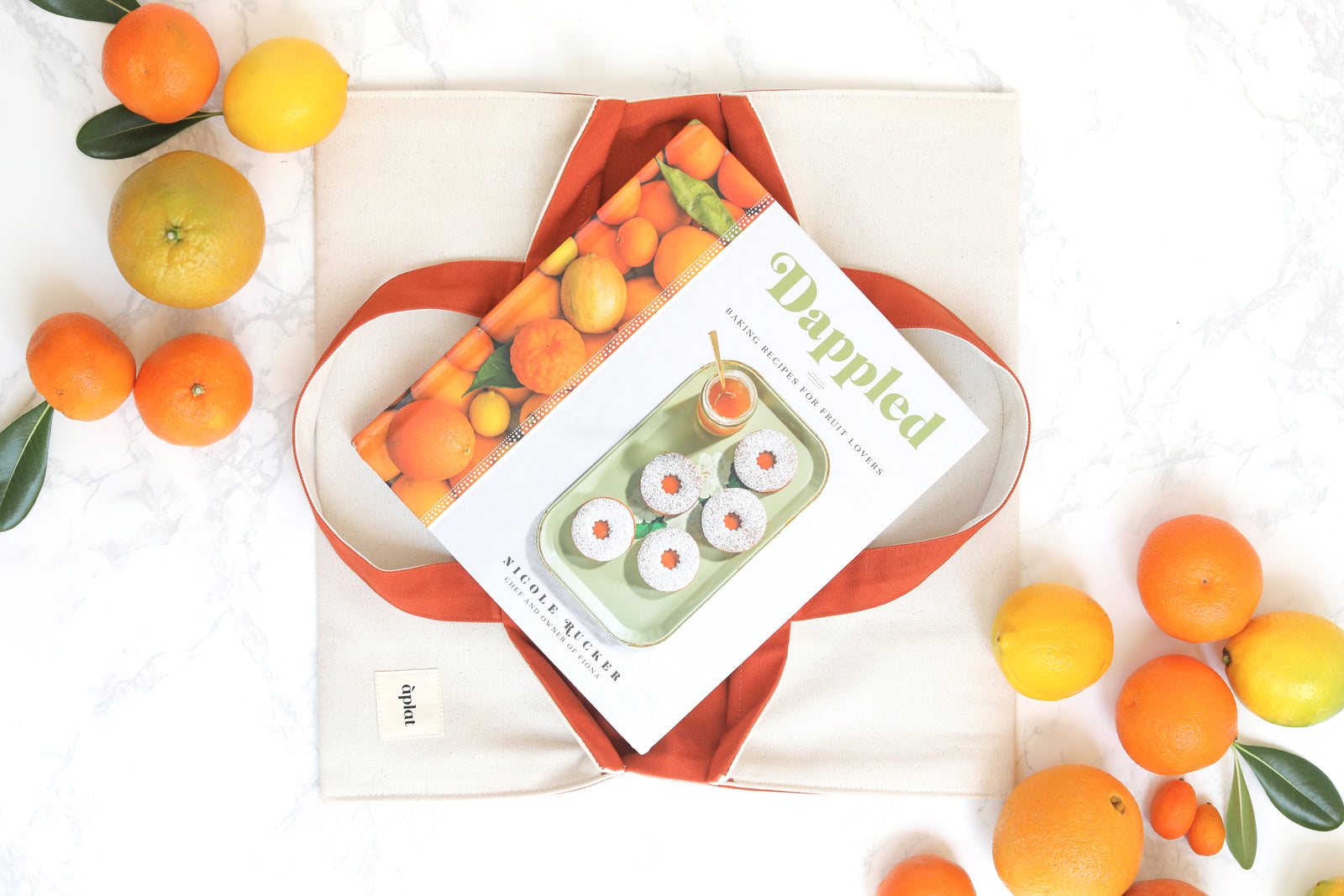 A Giveaway with @nowservingla @fionabakeryla + A Recipe
We love a great baking book, and we're excited about the release of Nicole Rucker's new cookbook Dappled, Baking Recipes for Fruit Lovers!
To celebrate, our two friends are hosting a giveaway! We're partnering with Now Serving and Fiona Bakery and two winners will each receive a copy of Dappled + a reusable, sustainable Aplat culinary tote to carry and share their baked goods with loved ones. To enter, head to the @nowservingla and @fionabakeryla Instagram feeds, look for the photo above and follow the instructions for the giveaway. Be sure to enter by end-of-day Friday, July 12, 2019. 
Want a preview? Here's one of the delicious cookie recipes, which happens to be featured on the cover of the book. We hope you purchase (or win!) a copy of Dappled and enjoy it as much as we do.
Pistachio Ginger Linzer Cookies
Makes about 36 sandwich cookies

Ingredients:

2 cups (250g) all-purpose flour, plus more for rolling

½ teaspoon baking powder

1 cup (150g) toasted shelled unsalted pistachios, ground into a coarse flour texture

½ teaspoon kosher salt

2 sticks (226g) unsalted butter, at room temperature

½ cup (100g) packed dark brown sugar

⅓ cup (79ml) dark molasses

1 tablespoon freshly grated lemon zest

1 tablespoon ground ginger

1 teaspoon ground cinnamon

½ teaspoon ground cloves

½ teaspoon ground white pepper

1 large egg

One 9-ounce (255g) jar pear preserves or apple butter

¼ cup (40g) chopped candied ginger

Confectioners sugar, for serving
Note: You can use any thick jam in place of the pear preserves or apple butter. Raspberry would be traditional for a linzer, but apricot is a bright substitute. This recipe requires that the dough be chilled for a minimum of 2 hours before baking. This can be done up to 3 days in advance.

Directions:

Step 1
Sift the flour and baking powder into a bowl. Add the ground pistachios and salt and whisk to combine. Set aside.
Step 2
In the bowl of an electric mixer fitted with the paddle attachment, beat the butter, brown sugar, and molasses together on medium speed until the molasses is totally incorporated into the butter and there are no visible streaks. Add the lemon zest, ground ginger, cinnamon, cloves, and white pepper and beat for 3 minutes. (Adding the spices to the fat and then beating them for a while allows the full flavor of the spices to work their way into the cookies.) Add the egg and mix until incorporated. Scrape down the bottom and sides of the bowl.
Step 3
Incorporate the flour mixture in three additions, beating on low speed after each addition until no dry bits of flour remain. Remove the dough from the bowl and transfer it to a lightly floured surface. Gather the dough into a ball, cut the ball of dough in half, and flatten each half into a disc. Wrap each disc in plastic. Chill the dough in the refrigerator for 2 hours
Step 4
Position the two racks in the center zone of your oven and preheat the oven to 325 degrees Fahrenheit. Line two baking sheets with parchment paper.
Step 5
Place the preserves and candied ginger in the bowl of a food processor and process until very smooth. Set aside.
Step 6
Remove 1 disc of dough from the fridge. Allow the dough to sit at room temperature for 5 minutes, or until cold but semi-pliable—this is called tempering. Roll the dough between two sheets of lightly floured parchment paper to ⅛-inch thickness. (If the dough starts to become too sticky to roll, transfer it to a baking sheet and chill in the freezer for 10 minutes to firm it up.) Do not discard the leftover dough; simply gather it up into a disc and chill for 30 minutes. You can roll and cut more cookies once the dough has had some time to rest in the fridge.
Step 7
Remove the top sheet of paper from the cookie dough and use a 3-inch round cookie cutter to cut out 24 cookies. Use a 1-inch round cutter to cut circles from the centers of half the cookies. Use an offset spatula to transfer 12 cookies to a prepared baking sheet, leaving 1 inch of space between each cookie. Freeze the cut-out cookies on the baking sheet for 10 minutes, or until firm, before baking.
Step 8
Unless you have a large home oven or a double oven, you will need to cut and bake the cookies in batches, baking two sheets of cookies at a time. If you are reusing the same baking sheets, they will need to cool completely before continuing.
Step 9
Bake both sheets of cookies for 6 to 9 minutes, until the edges are golden. The cookies with the window panes cut-out may bake a minute or two faster than the solid cookies; keep an eye on that. Let the cookies cool completely on the baking sheet, about 5 minutes.

Step 10
Once the cookies have cooled, turn the solid cookies over and spread a generous teaspoon of preserves on the flat side. Top each jammed solid cookie with the flat side of a windowed cookie and dust with confectioners sugar. Store the cookies in a sealed container in a single layer for up to 1 week.
Bon appétit!
---