Break Bread with Us to Celebrate Our 5th Anniversary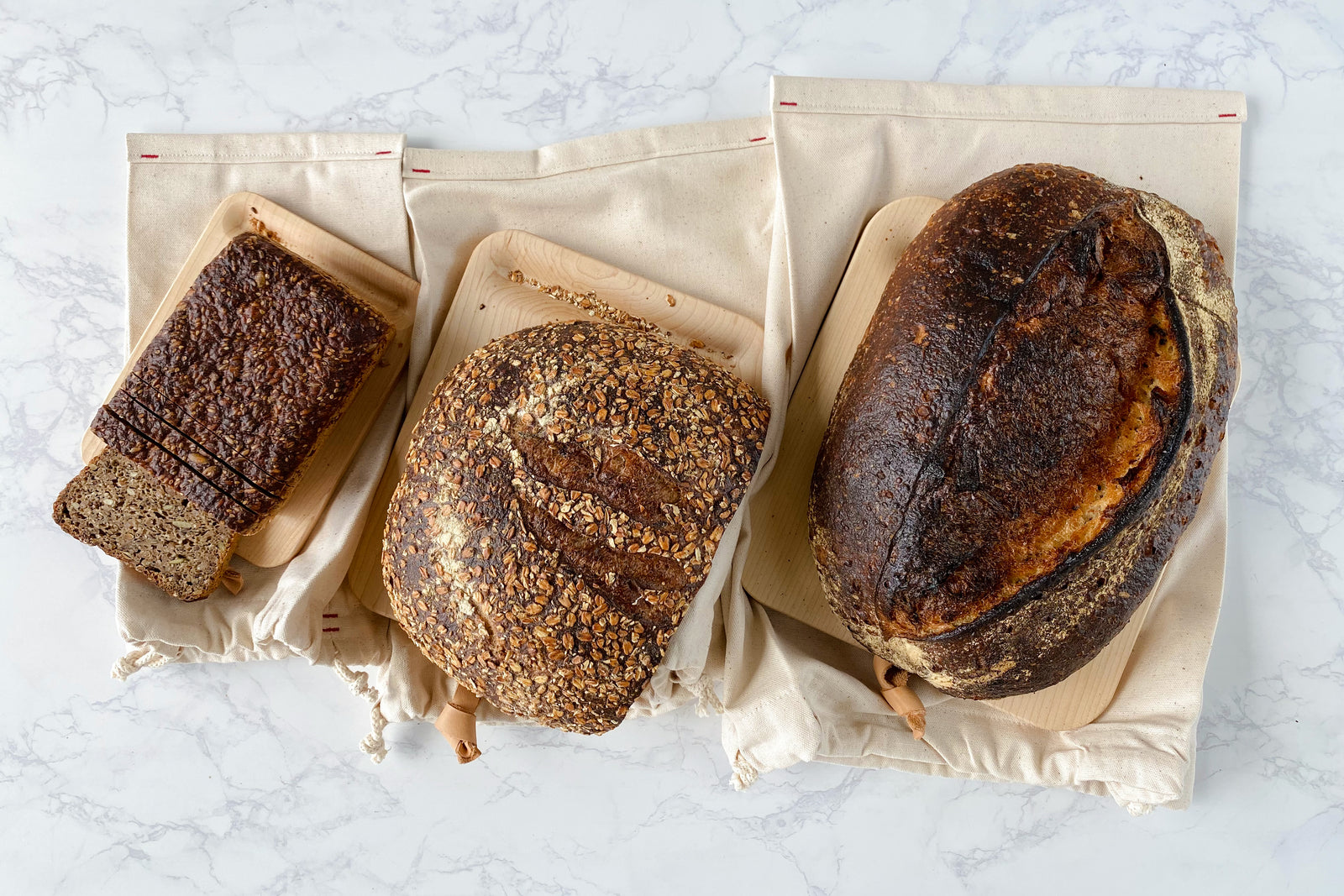 In honor of Aplat's 5th anniversary—and with wood as the traditional gift to mark this occasion—my husband helped design and prototype a line of custom-sized wood bread cutting boards sized just right to fit inside our bread bag collection. We asked our good friend Val, a local wood craftsman, to produce a small batch in celebration of Aplat's anniversary.
Made of domestic maple, the boards have a dimpled groove to collect small crumbs and an upcycled leather loop for hanging on your kitchen wall. Each board is individually crafted and features slight variations in grain and tone that are the hallmark of cherished handmade goods.
At home we love to bake. Our go-to: no knead bread in a Dutch oven. I love the sound of the crackling crust as it comes out of the oven. We also buy bread from our local artisan bakery, Tartine's country loaf. It's oversized with a crisp outside and a soft, airy, moist, sour inside. 
This newest addition to our bread collection was inspired by our family's love of bread. At home we mainly store our bread in a Poche Extra Large bread bag and use a custom piece of maple—planche de bois—for slicing. I love dedicating one cutting board to just bread. No need to wash it; it's just flour. We not only store the bread in the Poche Extra Large but the planche de bois and our bread knife too—always at the ready for a delicious slice.
Join us and celebrate your passion for bread with an Aplat Bois Bread Board and a Poche Bread Bag. Sorry, you have to supply the bread and knife. This family of three will keep your bread always fresh and ready to slice. And crumb-free counters too. Or simply bring the bag directly to the table so your friends and loved ones can enjoy the delight of fresh bread. 
We are excited to offer this limited series, not only to honor five years of helping customers find joy in sharing food but also to celebrate all those who during shelter-in-place discovered, or rediscovered, the art of baking bread. We hope that when we return to a more active and normal life, you will continue to make delicious bread at home, keeping it fresh and cared for in a Poche + Bois set. 
---