Farmhouse Lab's Real Food rooted in ancient wisdom from Ayurveda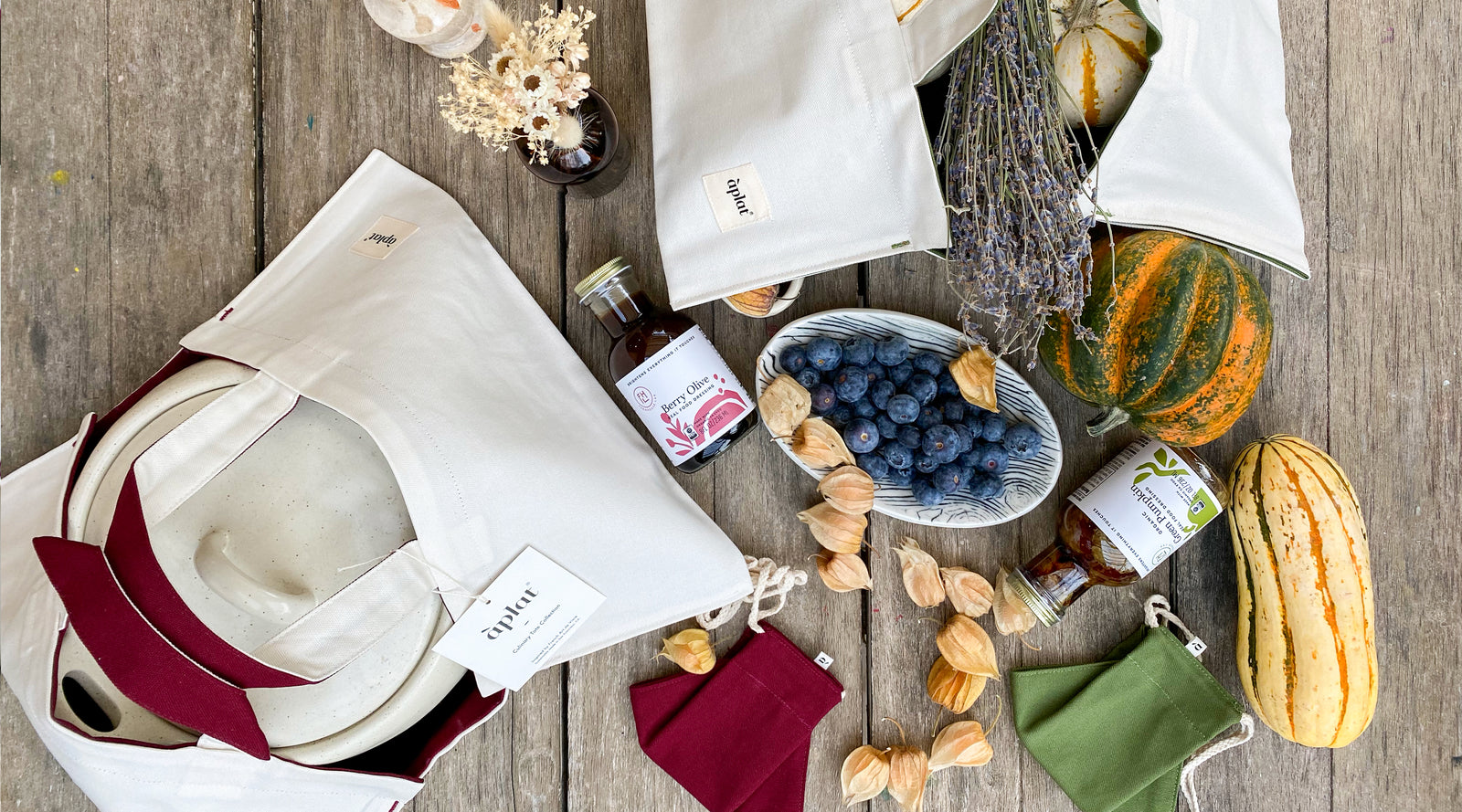 Q&A with our friend Daniela, founder of Farmhouse Lab.  
Tell us about Ayurvedic nutrition (diet/medicine?) and how it informed you and if that informs Farmhouse Lab creations today?
I am very passionate about this ancient wisdom. I love that it teaches us to be mindful and also holds us accountable to be mindful. Health is a dynamic state that is constantly changing due to external and internal factors. Ayurveda acknowledges this and also the individual and considers that treatments for certain ailments can be different for different individuals.
I first experienced how it can help you live a healthier lifestyle, that prevents disease, at age 28. I worked as a Key Account Executive in a large corporation and had to drive a lot to visit customers. My diet was irregular and consisted of a lot of dry snacks that I consumed on the road which aggravated my Vata (Space and Air element) energy and led to digestive issues and just a lot of unease. An Ayurvedic practitioner developed a simple diet and lifestyle plan including warm teas and water, oatmeal for breakfast with some warming spices, freshly cooked, soupy lunches and some calming self care rituals. All  that made a huge difference. Ever since I am fascinated and decided to study Ayurveda before I had children. Although I never chose to become a practitioner, I incorporate it into my family's life and am always happy to share some tips with friends. I mostly focus on diet and lifestyle and have a couple of herbal powders that I use occasionally.
Every Real Food dressings that I make can be explained and categorized in Ayurvedic terms. For example, our Red Sunflower dressing has warming qualities due to the chili and the red pepper. It will help pacify Kapha energy (Earth and Water elements), so can help with colds, weight loss etc. People with inflammatory issues should consume this dressing in moderation and I would recommend a more cooling dressing like our Sunny Avocado or our Berry Olive dressing.
Tell us a bit about your sustainability leadership role with a large global corporation and how you shifted from that to starting your own business, Farmhouse Lab?
When I worked in the gas and oil industry I was lucky to be involved in some 2nd generation biofuel projects. One project was a cellulosic ethanol plant in Canada which was going to produce biofuel from grasses, wood, algae, or other plants rather than from its plant's fruit or seed, which is much more sustainable that ethanol from sugar cane for example. 
With the same corporation I also was sent to Kenya on a project run by Earthwatch to study biodiversity at Lake Naivasha. For decades, flower farms use the sweet water of the lake to water the flowers that are shipped mainly to Europe to discount grocers and thereby threatening nature and wildlife. I learned that the solution is not to boycott those flower farms - many families depend on the income of the work at those farms - but to teach the growers and the locals to do it in a sustainable way. 
During a reorganization in 2013, just when my daughter Amilia was born, I had to make a decision - whether I wanted to move to Houston,TX to keep my job. We had just bought our first home here in California and my husband is working in tech, so it did not make sense for us to move the family. With a good amount of frustration in me, I decided to found my own business from the ground with my own ethical principles that would combine my passions (healthy, plant based living and lots of salads) with all of the business skills and experience with sustainability into Farmhouse Lab. Our first tagline was; consciously sourced and crafted, which was pretty rarely done in the food industry just a few years ago but I am very happy to see it now as a mainstream trend.
At Farmhouse Lab we really think about every step in our supply chain and have high selection criteria of our ingredients as well as how we are making our dressings. We believe that you can taste the difference.
Is there a new flavor on the horizon you can share with us? Was there a key moment or insight that led you to your flavors and creations?
This November, we will be launching a new product that is complementary to our dressings: it is a Flower Petal Salt that includes edible rose, marigold and cornflower petals, lavender, coarse Celtic sea salt and beet root powder. It makes every dish instantly look beautiful while adding flavors and functional properties of the flowers and herb.
I am constantly experimenting with new oils, vinegars and artisanal foods to create new combinations. Next year, we will launch at least one new flavor. I have not decided whether it will be more middle eastern or wine country inspired. Obviously, very different flavor profiles. I may have to test both with my customers!
The key moment that led me to the idea of Farmhouse Lab is the realization that the one thing that I can do better than most everyone I know is to make dressings and salads. It is easy and authentic for me and if I share my creations I hear a lot of hmmm, ahh, how did you make this?!
I am strongly inspired by European upbringing in terms of how to make a dressing/vinaigrette. When I was a young girl I loved learning to cook from my grand-mother and my mom and as a teenager, I started to cook a lot with friends. Those were the times when we experimented a lot and tried out new flavor combinations. I bought tons of cook books back then which I still have, and last but not least: travel. I am a sagittarius through and through when it comes to being a passionate traveler. I love to explore foreign places off the beaten track, immerse in the culture and cooking is always a great entry point to connect with people everywhere in the world. It is a highlight for me if I can be in the kitchen with someone else and learn new techniques. These moments of joy, fun and connection is what I want to bring into everyone's kitchen.
Do you have a favorite easy go-to holiday recipe that you can share with us?
Absolutely. For this Thanksgiving, I have created a salad for my followers with roasted kabocha and delicata squash, brussel sprouts, mozzarella, trumpet mushrooms and pumpkin seeds. 
It is absolutely delicious and is satisfying everyone's fall cravings, while offering a light, vegan and gluten-free alternative for guests who are following certain diets. The roasted vegetables and the trumpet mushrooms layered on top makes this salad an artful centerpiece to show off on any table.
It is easy to prepare in advance, so you can enjoy more time with your loved ones and it is great to bring somewhere when you reconnect safely. You just drizzle the dressing before you serve. And then: Enjoy!
Ingredients:
1 Delicata Squash

1 Kabocha Squash

1 lb brussel sprouts

1 container of Ciligiene Mozzarella

1 small box of trumpet mushrooms

2 heads of red lettuce

5 tbsp Olive Oil

5 tbsp Pumpkin Seeds (optional: roasted and salted)

Salt
Directions:

Step 1
Wash the kabocha and delicata squash as well as the brussel sprouts. Half the kabocha lengthwise, remove seeds and slice the squash with the open side facing down. Place in a bowl. Slice the delicata squash lengthwise, creating circles, removing seeds with your hands. Place into the same bowl. Remove the ends of the brussel sprouts and slice them in half. Place in the same bowl. Add 5 tbsp of Olive Oil and toss squashes and brussels, adding some salt and tossing again. Place everything on a lined baking sheet and bake for 15 mins on 425F. Flip veggies and bake for another 15 mins. If it looks too dry, add some more olive oil.
Step 2
Clean the salad heads and wash the leaves making sure most of the water drains before you lay the salad leaves into a large salad bowl.
Step 3
Half the Ciliegine Mozzarella.
Step 4
Part the trumpet mushrooms.
Step 5
Layer the roasted vegetables, mozzarella and mushrooms on top of the salad leaves and sprinkle with pumpkin seeds.
Step 6
Pour 4 oz of our Green Pumpkin Real Food Dressing over the salad bowl just a little prior to serving. Leave the dressing bottle on the table for your friends who like more dressing.
Step 7
Enjoy!
---