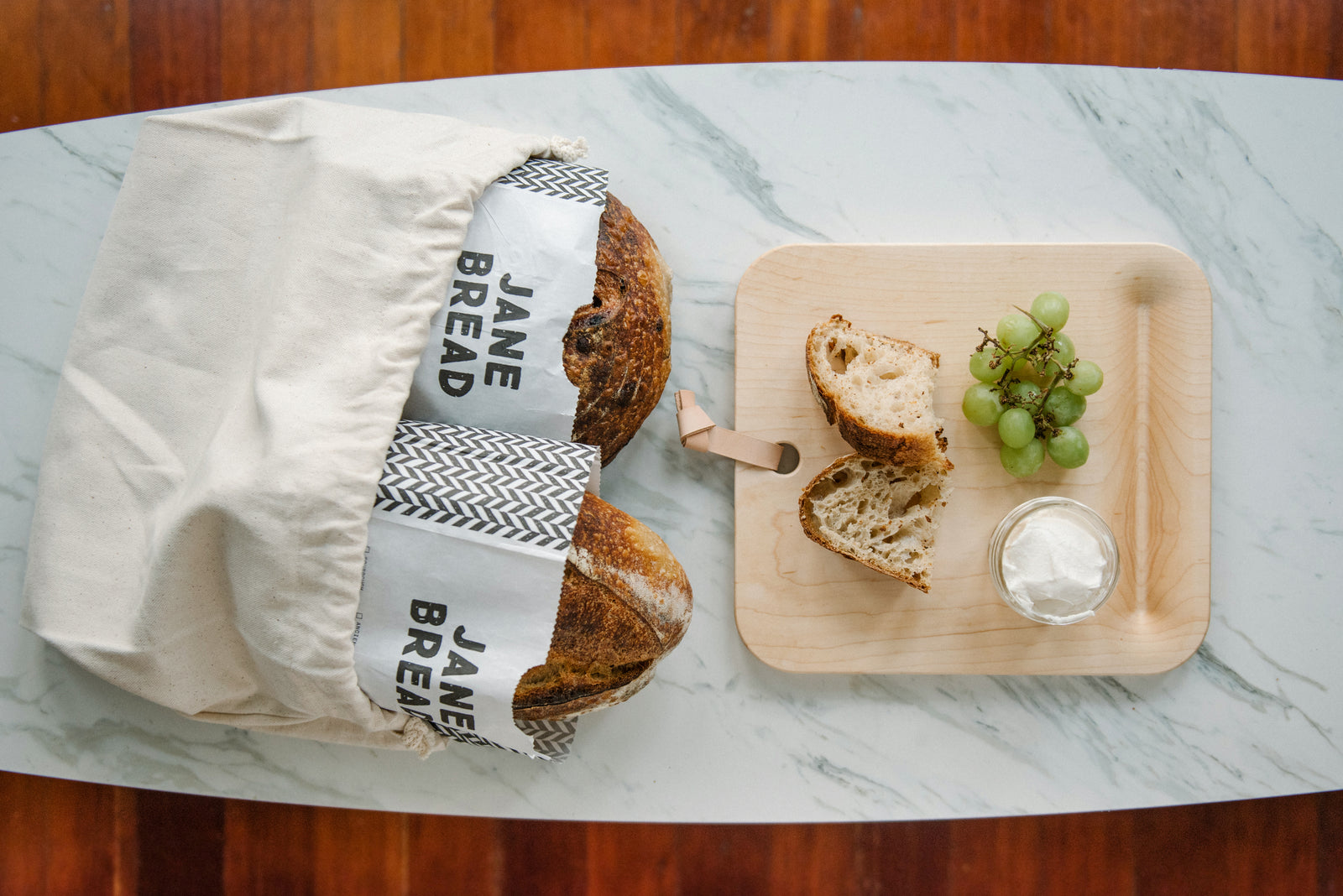 Baking and storing bread return us to our roots. The joie de vivre of entertaining and sharing time with those we love. We're thrilled to share our 5th anniversary bread board and bread pouch with some of our favorite bakers and learn their story and joy of baking. Introducing our most recent interview with Amanda Michael, owner of Jane the Bakery. 
What got you into bread and baking?
I started working with food in kitchens when I was in college. I loved the pace and energy of working in a kitchen, and I was totally obsessed. I decided that if I was going to be doing pastry I'd make the best I could. I soon realized the magic of baking and focused on pastry jobs. 
I worked for a restaurant group and opened a hotel for them in the Tahoe area. Up there the bread choices were abysmal - we were reheating frozen product and I decided to try baking in-house. I bought a few books and started baking bread for the hotel. I became totally obsessed with bread. I fell in love with the process and that was that. 
What's your favorite bread to make?
My all-time favorite is sourdough. I love the process and timing of the mixing and folding. I love feeling the dough in my hands as it gains structure. I love the smell of the sourdough starter, and how my kitchen smells when baking sourdough. I find the process to be so satisfying, even though it takes hours! Also, sourdough has so few ingredients - flour, salt, starter, and water, but it creates such a complex product with deep flavor. I love the fact that the baker has to rely on their hands and senses to create the bread. If I'm short on time, a focaccia is my go-to. It's quick, you can top it with fresh veggies or whatever you have on hand, and create a delicious bread.
Tell us about the new location? Had you been seeking an Inner Richmond spot?
The new location came about as a bit of a surprise. I am always and never looking for new spaces. I am not actively looking but am open when a great opportunity arises. A friend forwarded me an article about Toy Boat closing and being for sale which got me thinking. I love Clement Street and the Richmond. It's been a favorite neighborhood forever. Dinners at the many restaurants, Ice Cream at Toy Boat, book shopping at Green Apple. I raised my kids with Toy Boat. It was a big part of our lives and to think of it being gone was sad. There has been so much sadness due to Covid and I felt that by taking the space and combining Jane goods with ice cream, it was a win-win. I think we all need the small pleasures right now. Touchpoints of normalcy. And what's better than ice cream to bring a smile to your face??
What will make it feel quintessentially "Jane"?
The food and beverages will all be Jane, with the exception of the Double Rainbow Ice Cream. We are crafting cookie-inspired sundaes and will be making our own waffle cones (gluten free versions as well). Our coffee program will be in place and we will have a good selection of Jane Breads as well as packaged salads, sandwiches, breakfast items, cheeses and the like. It will be most similar to Jane the Bakery in a smaller format with the emphasis on takeaway items. 
What's inspiring you right now?
I get inspired by knowing that we are providing healthy, homemade food and baked goods for people during all this stress. I am also inspired by the people I get to work with. My team is so hard working and talented--our conversations about new items, new ideas and our goals keep me inspired. Talking to the farmers and millers about new grains and flours is always inspirational. I've been cooking and baking at home a lot more and the routine around bread baking is also inspiring - simply to enjoy the routine and process of baking.
Here's one of Amanda's favorite autumn bread recipes.
Spiced Apple Oatmeal Bread (Yields 2 Loaves)
Ingredients:
18 grams dry yeast

1/2 cup warm water

2 cup warm milk

2 tablespoon soft unsalted butter

1/2 cup brown sugar

2 teaspoon salt

2 cup rolled oats

1

teaspoon

cinnamon
1

teaspoon 

ground ginger
1/2

teaspoon

cardamom
1/2 teaspoon nutmeg

5 cup ap flour

2 cup grated granny smith apples, including juice (no need to peel)

Egg wash
     Optional
2 cup chopped walnuts
1/2 cup diced candied ginger
1 cup golden raisins
Directions:

Step 1
In a large mixing bowl rehydrate the yeast with the warm water. Water should be about body temperature. Once yeast has bloomed add warm milk, butter, sugar, apples, 3 cups of flour and mix well with a wooden spoon. This should take 4-6 minutes.
Step 2
Add spices and any inclusions (if using) and mix again.
Step 3
Gradually add remaining flour as you continue to mix until you have a kneadable dough. Depending on the moisture in the apples you may need less flour than indicated. Or you might need a little more.
Step 4
Remove the dough from the bowl and put onto a floured work surface and knead till smooth and pliable. Be careful to not add too much flour as this can toughen the dough.
Step 5
Lightly oil a bowl and place the kneaded dough in it, moving around to fully coat the dough. Cover with a cloth (or the Aplat Bowl cover) and let rise in a warm spot in your kitchen for about 60-90 minutes. The dough should have risen and be nice and soft.
Step 6
Grease two loaf pans, 9x5 and lightly coat with rolled oats if you like.
Step 7
Divide dough in half, gently pat out the air and roll into a fat loaf. Place in pans seam side down and cover again until just about doubled, about 60 min.
Step 8
While dough is rising preheat your oven to 375. Brush loaves with egg wash, sprinkle with oats and bake for 35 minutes (internal temp 190).
Step 9
Remove bread from pans as soon as you can and cool on a rack. This will prevent the dough from being soggy as the apples add a lot of moisture to the bread.
---