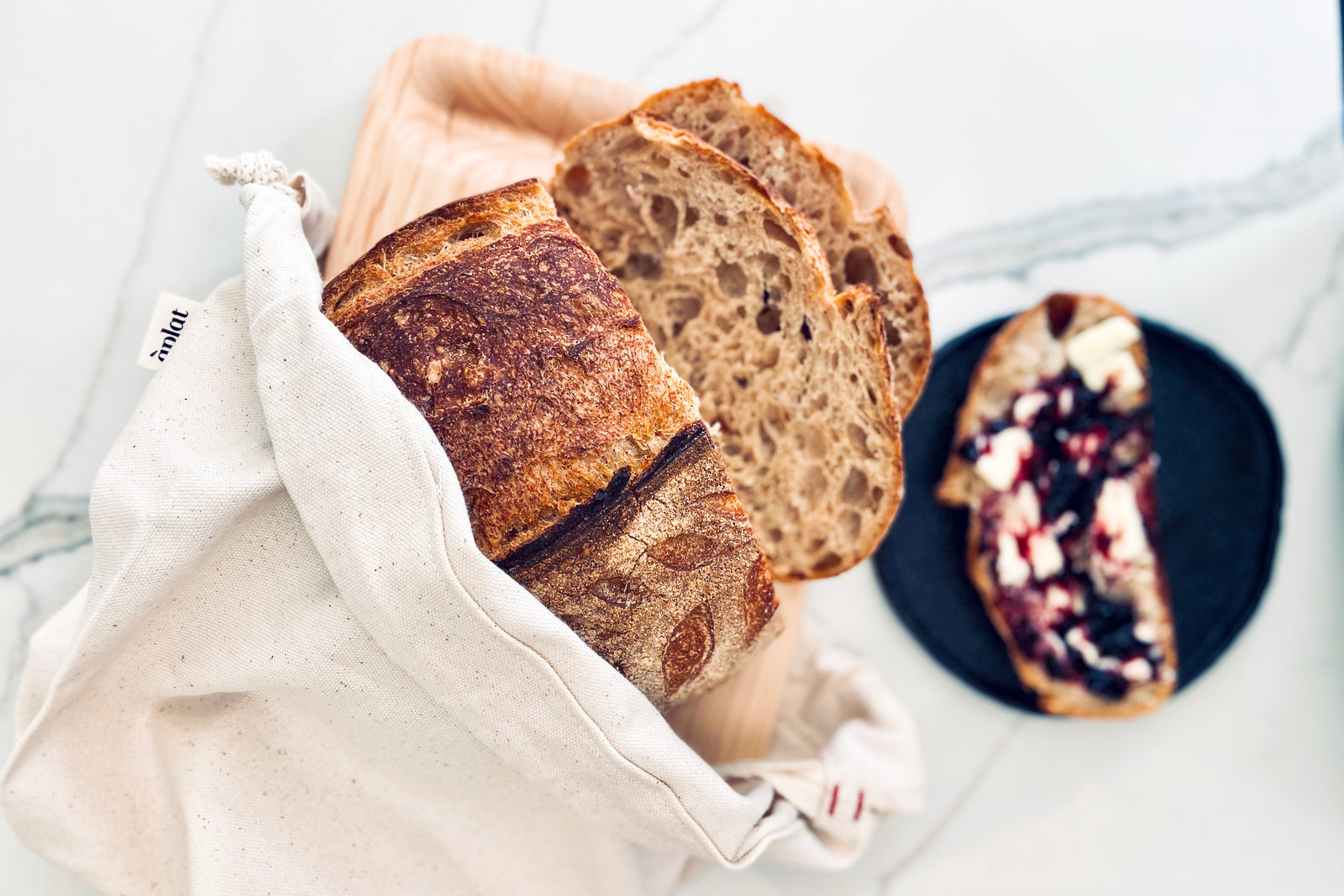 Lucky Penny Shares Its Love of Bread & Community
What got you into baking bread?
When I worked for Chef Melissa Perello at Octavia, I created a bread program for dinner service at both Frances and Octavia. Before that, I always found bread baking to be too intimidating and time consuming and just couldn't unlock the fermentation secrets. However, after hanging with a few bakers around town I quickly fell in love with the process and the rest is history!
What's your favorite bread to make?
Right now I love the Honey & Whole Wheat pan loaf that I offer to Lucky Penny subscribers. It's a perfect sandwich bread or toasted and slathered with butter and jam for breakfast.
Why did you name your business Lucky Penny?
I named the bakery after my two and half year old daughter, Penelope. Becoming a mother pushed me to find more of a balance between work and life. When I was 32 weeks pregnant, I was hit by a woman making a left turn while I was in the crosswalk walking to work.  Luckily, my daughter and I came out of it relatively unscathed, but it significantly shifted my perspective on where I should be placing my priorities. It still took me several months to make the decision to not return to my job, but I know that it has been one of the best decisions I made for my family. Once I made that decision, I got to work figuring out how I could still be present for her day to day life and do what I love. I feel so incredibly lucky and fortunate to be able to bake for my neighbors and still set a strong example for my daughter. She regularly plays at my feet with her own bowls of flour and water and pretends to bring bread to people from her little playhouse.
What's inspiring your baking as we head into the cooler months and holiday season?
For the fall, I'll have a Cinnamon Raisin variation of the pan loaf that is perfect - lightly toasted and topped with soft butter and crunchy salt. I use organic Korintje cinnamon from Oaktown Spice Shop that takes it to the next level!
Cinnamon Raisin Whole Wheat Sourdough Pan Loaf (Yields 1 Loaf)
Ingredients:
125 grams water
20 grams honey

100 grams raisins

400 grams water

100 grams bread flour

400 grams whole wheat flour

5 grams cinnamon, ground

120 grams freshly fed (ripe) sourdough starter

10 grams salt
Directions:

Step 1
Bring 125g water, honey and raisins to a simmer. Simmer for about 10-15 minutes and then set aside to let raisins absorb liquid and plump up for about 45 minutes. Drain liquid and reserve to mix into final dough. Let raisins cool completely (spreading them on a sheet pan lined with parchment will speed this along).
Step 2
While raisins are plumping, in a large mixing bowl mix 400g water plus reserved raisin liquid, and flours by hand until everything is well incorporated and there are no dry bits of flour. Cover with a tea towel and let dough rest for at least 30 minutes and up to 45 minutes.
Step 3
Once dough has rested and raisins have cooled, add starter, raisins, cinnamon and salt to the dough and mix by hand by squishing and kneading the dough until everything is incorporated.
Step 4
Transfer dough to an oiled bowl and cover with a tea towel and let rest for 45 minutes.
Step 5
After 45 minutes, give the dough a few stretches and folds by pulling the dough from the edges up and to the center. Rotate the bowl a few times, repeating the pulling and folding. Cover and let rest. Repeat this two times for a total of 3 fold sets every 45 minutes, then let the dough rest at least another hour to hour and a half after the last set of stretch and folds.
Step 6
After the final resting the dough should have increased in size by about 2/3. Carefully dump the dough out onto your work surface and shape into a rough ball. Let rest 20-30 minutes.
Step 7
Lightly flour the surface of the dough and flip it over using a bench scraper. Gently flatten the dough into a rectangle shape then starting at a short end, gently roll the dough into a log.
Step 8
Roll the shaped loaf in a bit of whole wheat flour and then place seam side down into a greased loaf pan.
Step 9
Cover with a tea towel and let rest on the counter for about 30 minutes. Then put in the refrigerator to finish proofing overnight.
Step 10
In the morning, preheat your oven to 425F. Place the pan in the center of the oven and bake for about 20 minutes. Reduce heat to 375F and bake an additional 25-35 minutes. The loaf should be a deep golden brown and if you tap the bottom of the loaf it should sound hollow.
Step 11
Remove from the oven and let it cool in the pan for about 15 minutes before removing from the pan to finish cooling.

Step 12
Let rest at least one hour before cutting into the loaf.

---