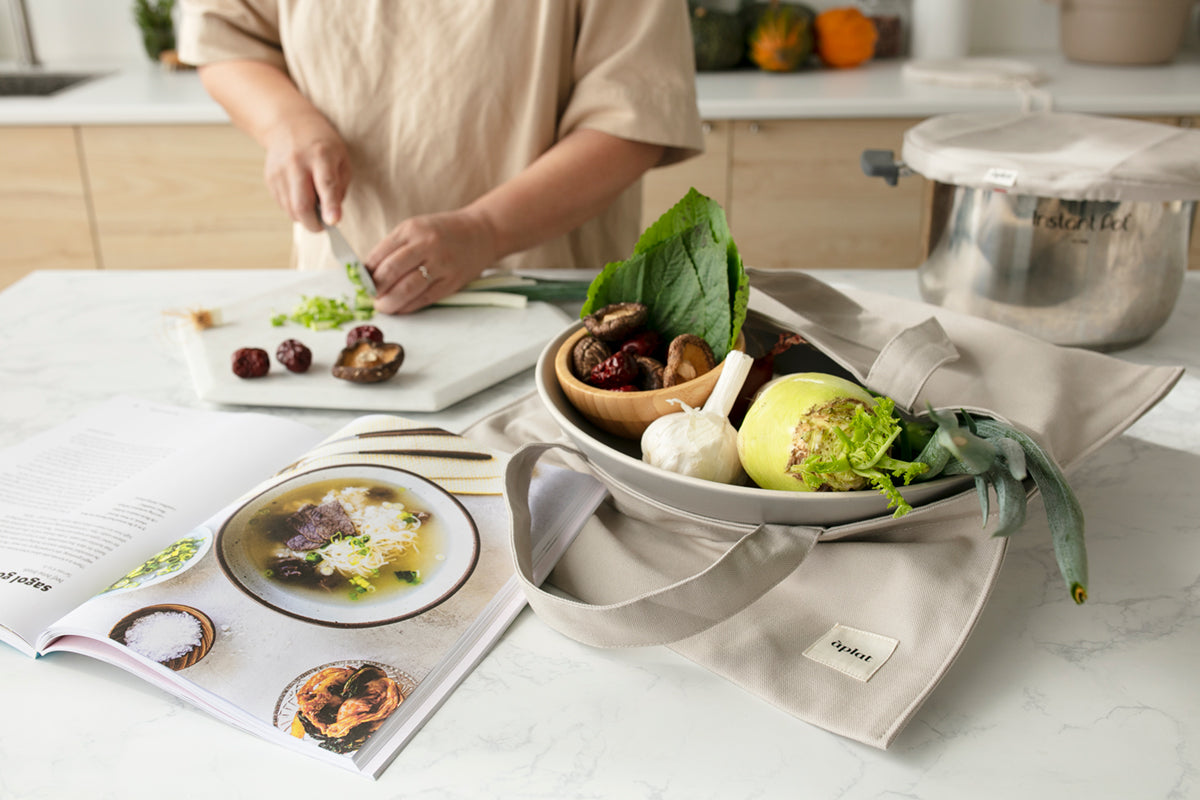 Sagol Gomtang 사골곰탕
Beef Bone Broth 

Serves 4 to 6 
Sagol Gomtang, a beef bone broth, is truly a wintertime favorite for Korean households. Its lifespan can be stretched many times over by boiling servings of the dense broth with water. The deep milky broth can feed the family for days. It freezes well and is versatile enough to be used as a base for soups and stews. Add flank steak or brisket to make it a hearty soup and serve over rice. It's comforting on all levels.
Prep Time / 1 hr to soak 
Pressure Cook Time / 30 min, plus 45 min to boil 
Release / Natural 
Photo by Nancy Cho, and Selina Lee
Ingredients:
3 to 4 lbs mixed beef bones (ox feet, shank, or knee bones)

1 lb flank steak or brisket

1 serving somyeon (wheat flour noodles)

1 scallion, thinly sliced
Directions:

Step 1
Wash and soak the bones in cold water for 1 hour, draining and replacing the water every 20 minutes. Place the bones and brisket in the inner pot with 12 cups of water.
Step 2
Turn and lock the lid and move the steam release valve to the sealed position. Select Pressure Cook on High and program for 30 minutes. When the cooking is complete, release pressure naturally. Unlock and carefully remove the lid.
Step 3
Transfer the brisket and bones to a large bowl. Discard the water and rinse the bones clean under cold running water.
Step 4
In the inner pot, add bones, brisket, and water up to the 3-quart line, about 10 to 12 cups. Select Sauté on High and boil for 45 minutes with the lid off. Keep adding water up to the 3-quart line as it continues to boil. Using a spoon and a skimmer, skim the fat and solids from the broth. Continue until the broth becomes clean and translucent.
Step 5
Transfer bones and meat to a cutting board. Season the broth with salt and pepper. Slice the meat into thin slices and remove ligaments from the bones (it should fall apart easily).
Step 6
In a medium pot over medium-high heat, bring 4 cups of water to boil. Add somyeon and cook for 2 to 3 minutes, or according to the package's instructions. Thoroughly rinse and drain the noodles in cold running water.

Step 7
Serve the broth and meat with rice and/or noodles (if using). Garnish with scallions and season with salt, as needed.

Tips 
Natural release may take time. Release pressure a little bit at a time to avoid liquid from overflowing. Ensure the liquid collector at the back of the Instant Pot is not full. 
For a milky bone broth, use ox feet with shank bones and boil on high starting Step 4. 
Store the bone broth in the freezer for later use. 
Store bones in the freezer and reuse up to 3 times. The second or third boil will produce a thicker and milkier bone broth. 
Reprinted with permission from Korean Instant Pot Cookbook, Nancy Cho, and Selina Lee copyright 2021. Published by Rocketships & Wonderment.
---