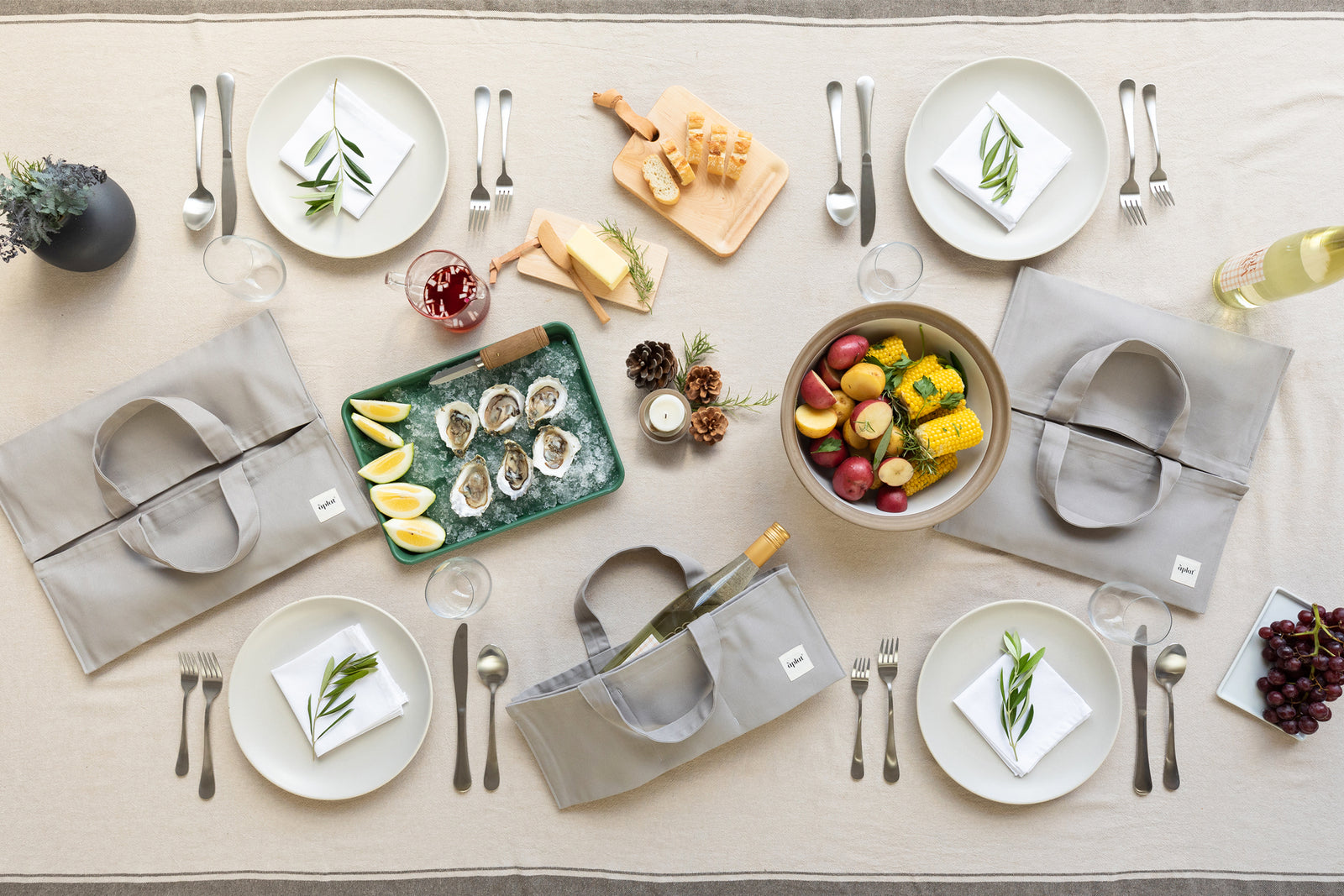 Introducing two new cookware tote sizes in conjunction with the launch of a new color, Oyster. I'm delighted to share with you the details of the inspiration behind the new design and color choice. 
Cooking Together
After years of using totes with our traditional dimensions, we realized we needed a design to be compatible with some of our larger cookware with lids and handles. Our Cookware Tote and Grand Cookware Tote are designed slightly larger than our Dish and Casserole Totes and have a 2-inch opening in the center. The extra allowance of the center opening ensures you'll be able to carry cookware from popular brands like Material Kitchen,  Our Place, Caraway, Great Jones and Made In, among others. The Cookware Tote will fit your round and square cookware while the Grand Cookware Tote fits oval and rectangular cookware.
A bigger tote means you can transport more food for dinner parties, potlucks, and picnics. This Cookware Collection is an excellent way to take shareable dishes and platters to reheat or serve on the table at your destination. Aplat fully embraces and encourages the idea of celebrating meals with family and friends, and the Cookware Totes help you share even more meals with your loved ones.
A New Color
The full Culinary Tote Collection is available in our newest color option, called Oyster–a beautiful misty gray.

Aplat works with color palettes that celebrate our connection to nature, and the Oyster color is a nod to California's beaches and marine life. Since oysters come into season during the fall and winter, the name is especially apt for a September launch!

Many of our colors are inspired by California's forests, farms, and mountains, so I'm excited to finally introduce a color influenced by the ocean. After years of living and working in San Francisco with close access to beaches and the bay, it seemed fitting that our next color option should reflect our breathtaking coastal geography.
This classic and neutral gray is a sophisticated addition to your kitchen. Whether you're carrying a platter of fresh oysters or another delicious dish, an Oyster colored tote is a beautiful way to transport your food with simple elegance. 
View The Oyster Collection
---