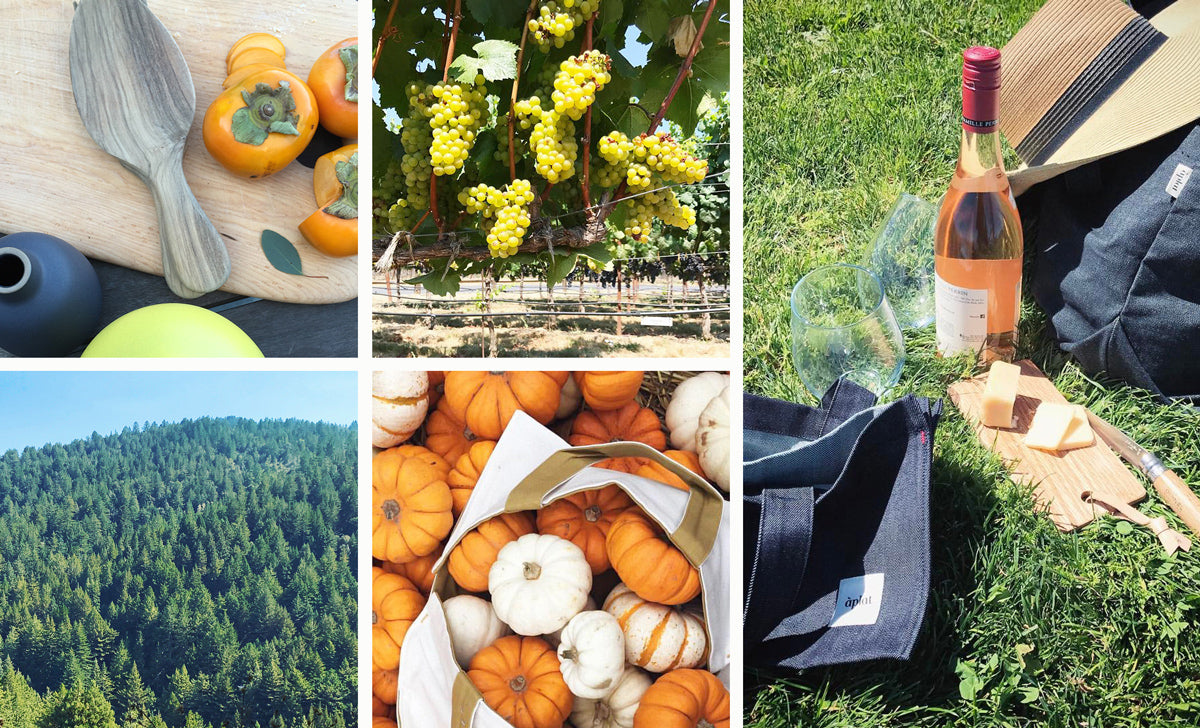 Every season is beautiful, and so are the transitions between them.
Routines are resetting, circadian rhythms are shifting, and the colors and patterns on our plates are changing along with the farm-to-table offerings of the season. As one of my girlfriends likes to say, "September feels like the beginning of the year!" Everything feels new and fresh – from work life to new grades in school. 
What I love about summer to fall transitions is the clear light, the vivid colors, the firm apples and sweet figs that tell me fall is coming, and that my favorite fruit – persimmons – will soon appear!  In San Francisco, the summer fog starts to lift and we have a few warm days before it gets crisper. This is a time I love to get outside for a hike or gather with friends to hear about their summer adventures around a dinner table, at a picnic, or watching the sunset together over a glass of wine. 
This is also the season that Aplat came to be, inspired by the transitions my husband, Blaise, and I experienced when we lived in Italy and France, and at his family home in Cagnes Sur Mer, near Nice. Living among the Bertrands, I learned the art de vivre, a way of life that's expressed in all the food, wine, bread and plentiful gardens that are so much a part of that beautifully simple place.
The Aplat Tote Collection is like walking room by room through the Bertrand home – from the wine cave to the kitchen and out to the family table under the vines, with the fruit and vegetable garden just beyond. Each Aplat piece captures the gentler rhythm and generous spirit of life there, and I want this collection to carry that warmth to you, and to your friends.
September is an especially busy month for Aplat. I'm thrilled to be connecting at the many gatherings and celebrations happening in the Bay Area in the coming weeks and months. I'm especially excited about the day I'll spend as a judge for the Good Food Awards; plus the launch of "Wine Country Women" at Copia in Napa Valley where we will have our first Aplat Trunk Show; excited about the lineup at be in good company, and the bombesquad at Cherry Bombe Jubilee… Looking forward to sharing more!
Many thanks,
Shujan
---